Chatan Park Sunset Beach is located in Chatan Town in the central part of the main island of Okinawa.
Chatan Park Sunset Beach is a bit long name, so we call it "Sunset Beach".
This beach is characterized by a beautifully maintained beach and highly transparent sea.
Although it is an artificial beach, it is beautifully maintained and there are many Instagrammable spots.
There are many popular sightseeing spots nearby, such as American Village and a movie theater.
Evaluation of Chatan Park Sunset Beach
Notes: This evaluation is compared with other beaches in Okinawa by Okinawa Bookmark administrator
Information of Chatan Park Sunset Beach
Swimming period
April to November
Business hours
October 1-31, 2022: 9:00 – 17:00
November 1-30, 2022: 9:00 – 17:00
*Subject to change depending on season and weather
Swimming fee
Free
Protective net
Yes
Lifeguard
Yes
Shower room
Yes
Locker
Yes
Rentals
Yes
Activities
Yes
Shops
Yes
Restroom
Yes
Official HP
https://www.uminikansya.com/
There are great rental service at Sunset Beach.
[Rentals]
- Inflatable ring
- volleyball
- Umbrellas & beach chairs, etc.
Recommended Points
Beautifully maintained sandy beach
It's an artificial beach, so it doesn't feel like nature, but it's a well-maintained beautiful beach.
The swimming area is embanked and designed to keep the waves calm.
There is a protective net during the swimming season, and lifeguards are always on duty.
Seen from above, Sunset Beach looks like this.
Highly transparent sea
The sea is highly transparent and very beautiful.
There is the Azumaya(rest place), where you can rest in the shade.
Beautiful sunset
The sunset is so beautiful.
The sunset from the American Village right next to Sunset Beach is also beautiful.
BBQ
You can do BBQ at this beach.
Although advance reservations are required, BBQ equipment and tents can be reserved by ordering ingredients.
If you are planning a beach party, it may be a good idea to have a BBQ.
[BBQ]
Please check here for details about BBQ
Great facilities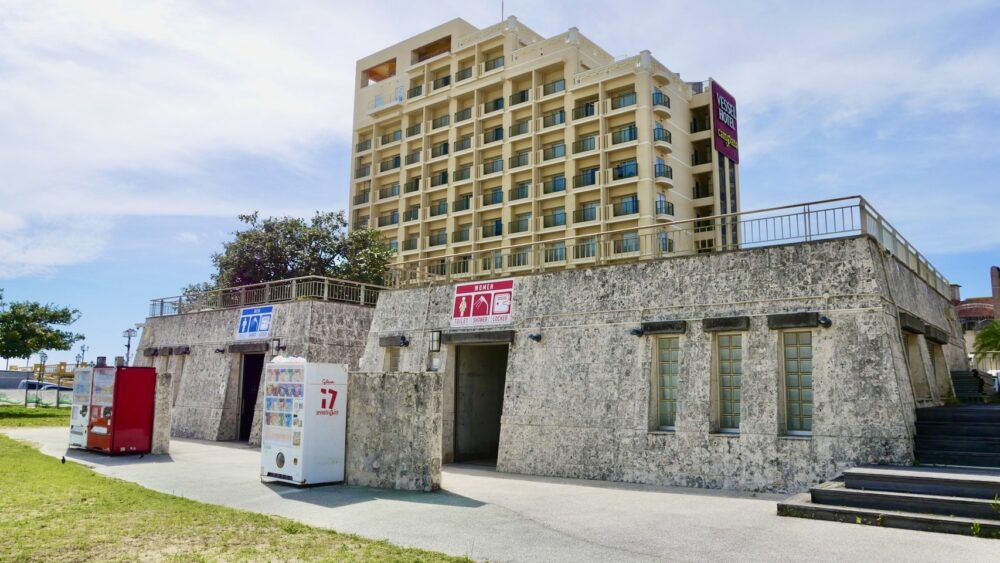 There are restroom, showers and lockers in this beach.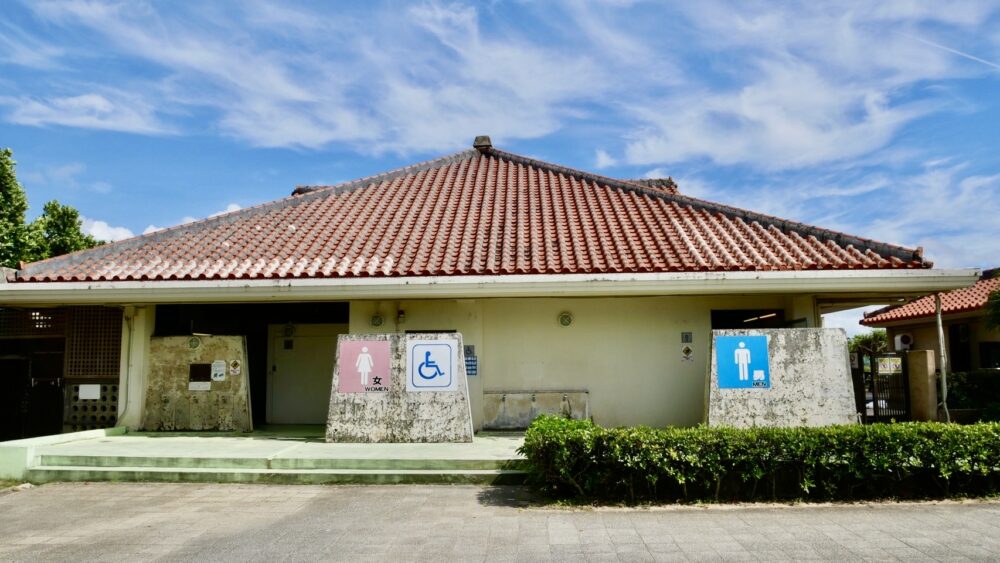 There are multiple restrooms, so the environment is easy to use.
Access Information
| | |
| --- | --- |
| Access | About 40 minutes by car from Naha Airport |
| Address | Mihama, Chatan Town, Okinawa Prefecture |
| Parking | Yes (Free) |
| Restroom | Yes |
There are many free parking area at near Sunset Beach.
Area Information around Sunset Beach
American Village is lined with American-style concept buildings.
There are fashion brands and general stores, restaurants.
Especially for young people, it is a popular place as an Instagrammable spot.
The Beach Tower Okinawa
The Beach Tower Okinawa is a resort hotel where you can enjoy the ocean view and the night view of American Village.
The hotel facilities are perfect, including natural hot springs and swimming pools.
You can walk to Sunset Beach in about 1 minute, so this hotel is recommended for those who want to enjoy sightseeing in Okinawa while playing on the beach.
View on Expedia
View on Trip.com
Summary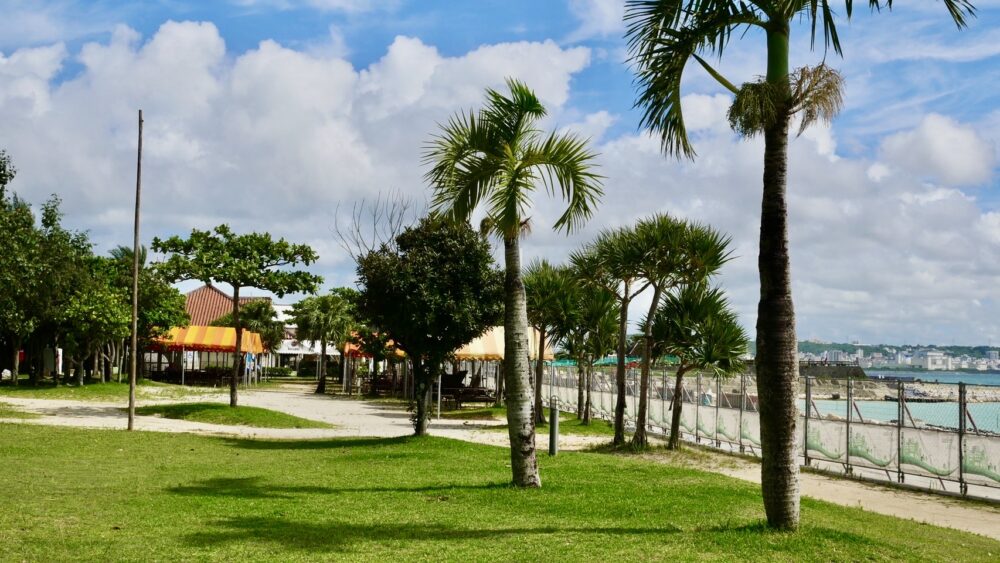 This time, We introduced Chatan Park Sunset Beach.
This beach is characterized by a beautifully maintained beach and highly transparent sea.
You can also do a barbecue, so it is a recommended place for those who want to have a beach party.
There is an American Village nearby, so you can enjoy shopping at the same time.
So if you have a opportunity, please visit to Sunset Beach.