Azama Sun Sun Beach is a beach located in Nanjo City, in the Southern part of the main island of Okinawa.
This beach is attracitve with "highly transparent sea" and "white sandy beach"
Many tourists come to this beach every year to enjoy sea bathing.
There are hotels and restaurants in the surrounding area, and it is a beach where people who like activities and those with children can play with peace of mind.
Evaluation of the Azama Sun Sun Beach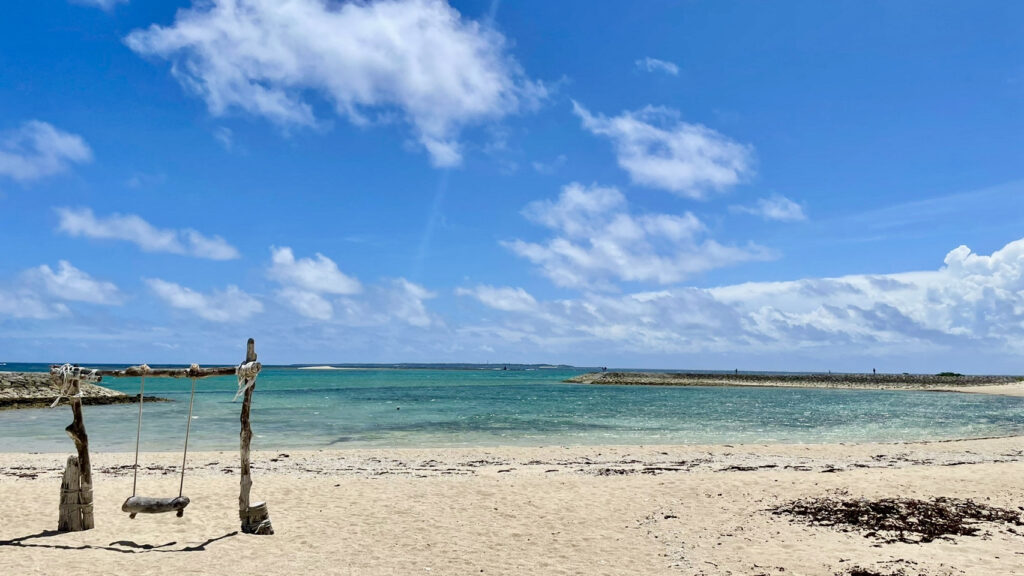 Notes: This evaluation is compared with other beaches in Okinawa by Okinawa Bookmark administrator
Information of Azama Sun Sun Beach
Swimming period
April-October 10:00~18:00
(Until 19:00 in July and August)
Business hours
April-October 9: 00-18: 30
November-March 10: 00-18: 00
Swimming fee
Free
Protective net
Yes
Lifeguard
Yes
Shower room
Yes
Locker room
Yes
Swimming Equipment Rental
Yes
Marine Activities
Yes
Shop
Yes
Restroom
Yes
Official Site
https://www.azama-beach.com/
(all pages japanese)
Azama Sun Sun Beach has a very good rental service, so you can enjoy it empty-handed.
The swimming area has a protective net, and there are guards and life savers, so you can enjoy it with children.
[Swimming Equipment Rental]
・Beach bed
・Beach chair
・Beach umbrellas
・Tent(3m×6m)
・Table(8 people)
・Cool box(Big)
・Cool box(Small)
・floating ring
・floating ring(Big)
・Life jacket
・Goggles
・Volley court(Ball included)
* Please check here for the details.
[Marine Activities]
・Banana boat
・Big Marble
・Halfpipe
・Marine jet
・Snorkeling
・Marine jet
・Wakeboard
・SUP
* Please check here for the details.
Recommended points
Highly transparent sea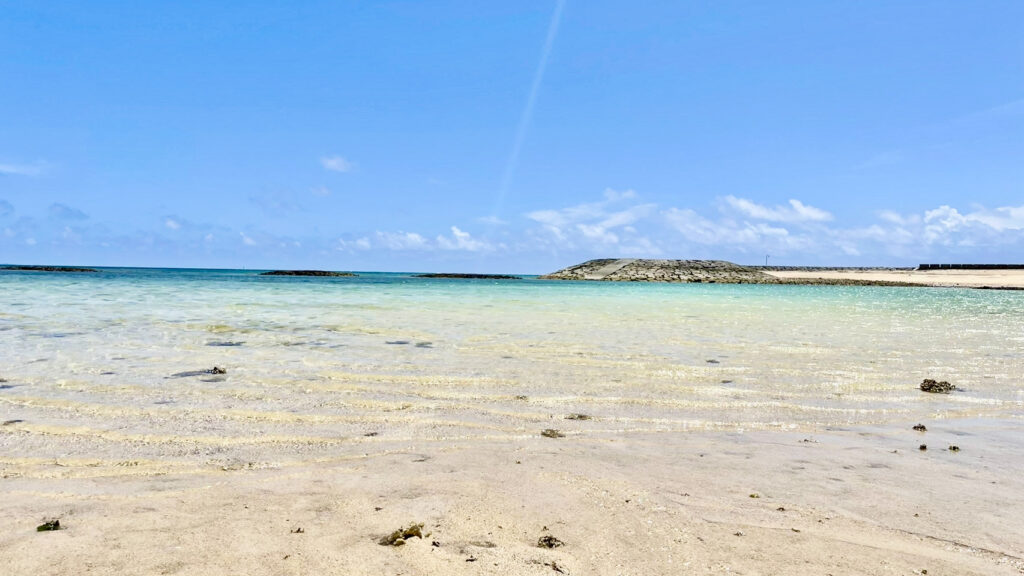 The white sand beach and the highly transparent sea are very beautiful.
White and beautiful sandy beach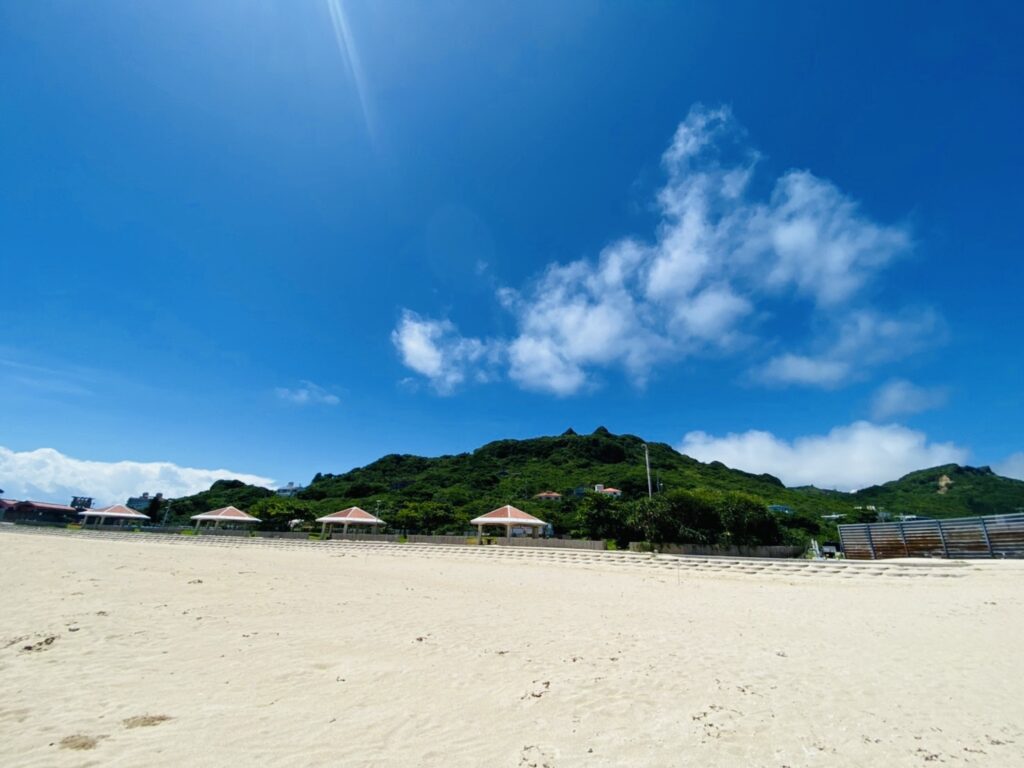 The sandy beach is smooth and very beautiful.
Enhancement of rental equipment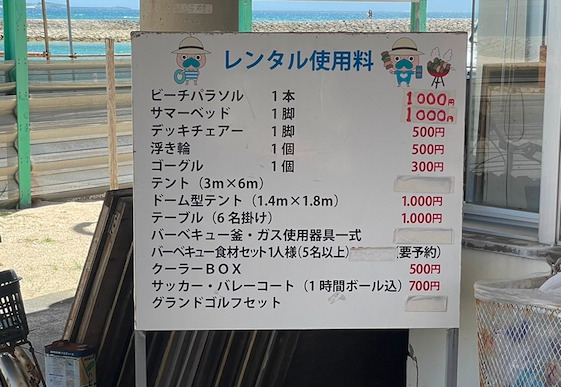 You can rent a wide selection of beach umbrellas, floats and barbecue sets.
Even if you come empty-handed, you can fully enjoy it just by renting it.
Abundant activities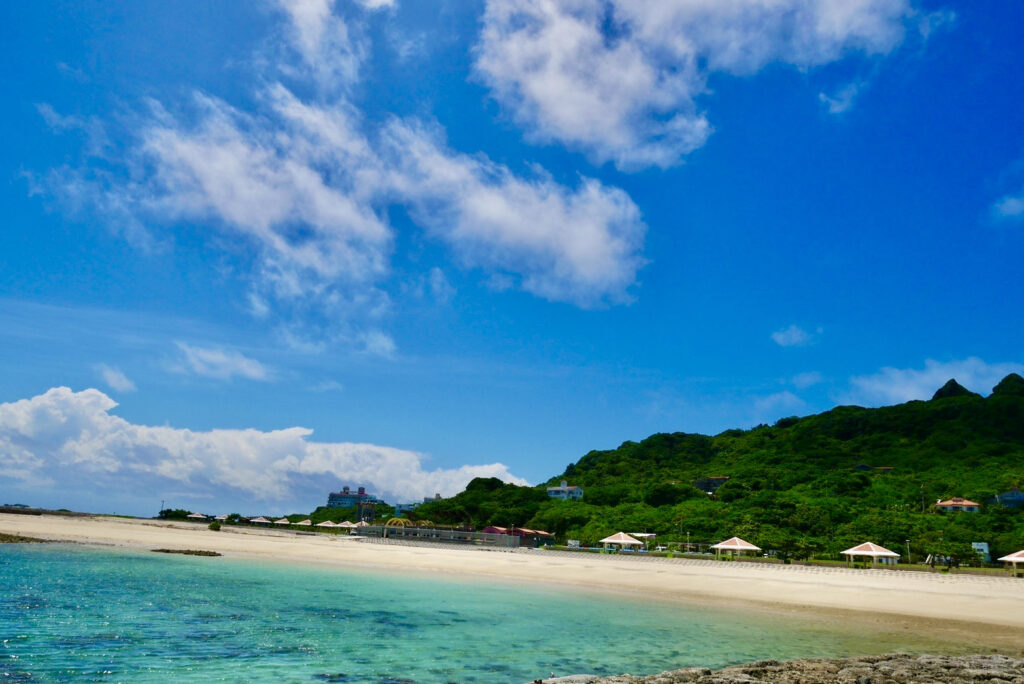 You can use banana boats, snorkeling, marine jets and more for a fee.
For details, please check from the URL below.
https://okinawa-nanjo.jp/beach/
Plenty of rest space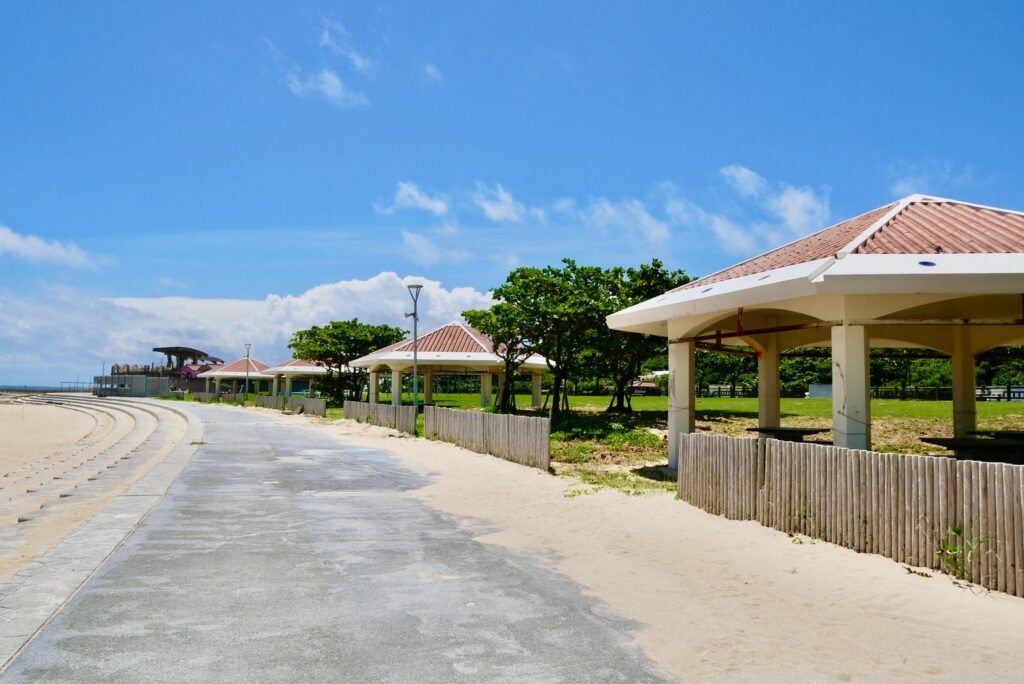 There is a covered break space, which can also be used for reservation-based BBQ.
Sun Bell (Tida Bell)
This place is great for photo spot.
So many people take pictures in this place.
Swing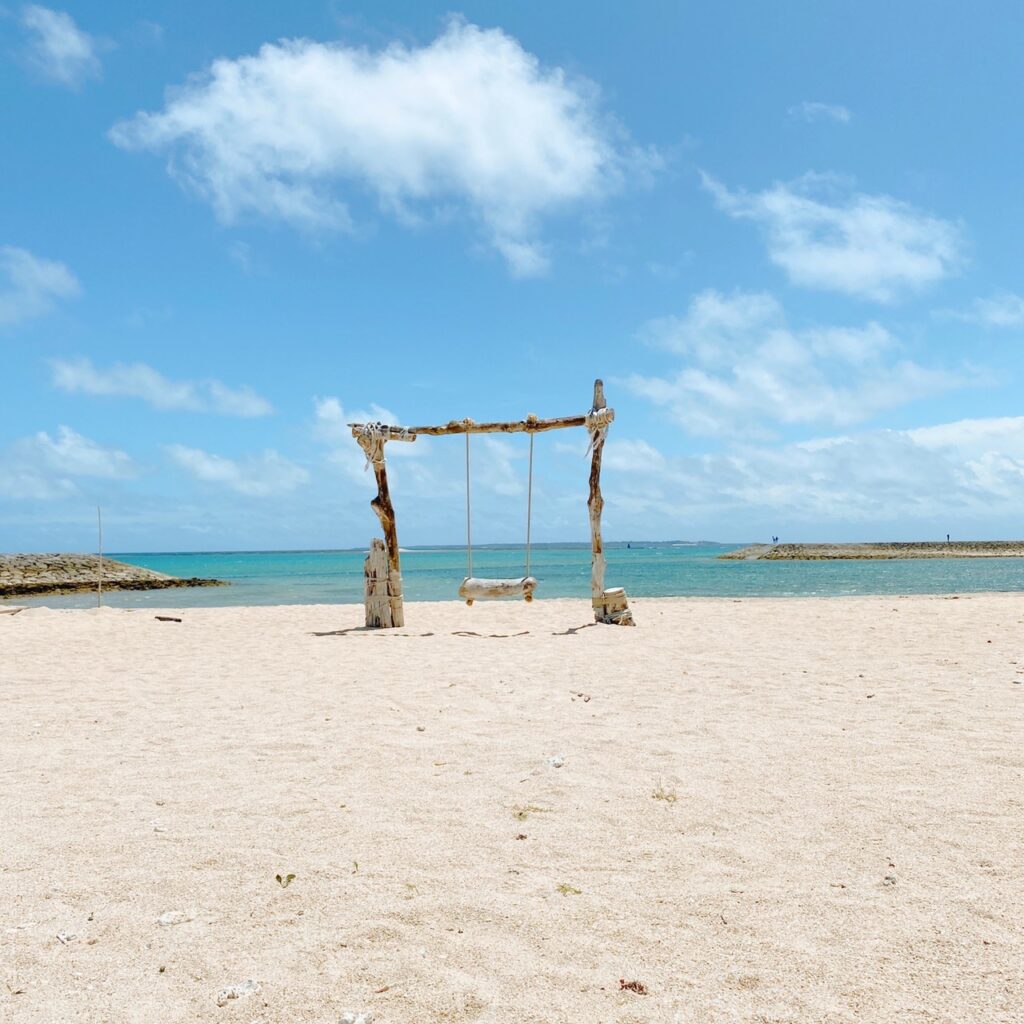 There is a swing for taking pictures.
Access Information & Car Paking
| | |
| --- | --- |
| Access | About 45 minutes by car from Naha Airport |
| Address | 1141-3 Chinen Azama, Nanjo City, Okinawa Prefecture |
| Parking | Yes (Charged Parking) |
| Restroom | Yes |
If the beach season is open, you can park for 500 yen per day.
For detailed parking information, please refer to the map below.
Recommended hotels around Azama Sun Sun Beach
Hyakuna Garan(百名伽藍)
Hyakuna Garan is a luxury resort hotel with "cooking using seasonal ingredients from Okinawa" and "ocean view from the hotel".
Hyakuna Garan is located along the coast and overlooks the sea of Okinawa as if looking down from a cliff.
The room rate is a little higher than the market price, but you can experience satisfactory service and hospitality.
View on Expedia
Yuinchi Hotel Nanjo(ユインチホテル南城)
Yuinchi Hotel Nanjo is reasonable price and has a natural hot spring that is rare in Okinawa.
When the weather is nice, you can see the sea from the hill and enjoy the beautiful scenery.
View on Expedia
Summary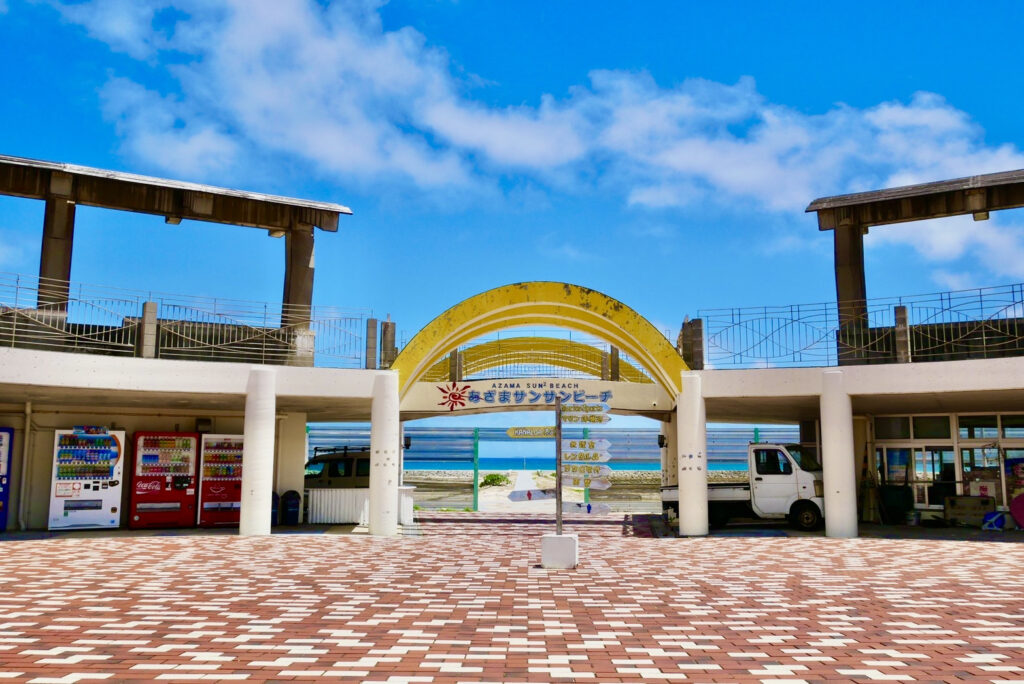 We introduced Azama Sun Sun Beach.
Azama Sun Sun Beach is a beach where you can go empty-handed and enjoy swimming and activities, and even with children, you can play with peace of mind, so please come and visit there.
In addition to Azama Sun Sun Beach, there are many beaches and sightseeing spots in Nanjo City, such as Kudaka Island called "Island of god" and "Sefa Utaki" in advance. Please check a little and enjoy sightseeing.
Thank you for reading until the end.