Cape Zanpa is located in Yomitan Village in the central part of the main island of Okinawa, and is a famous tourist destination with a cliff of about 30m in height that continues for about 2km.
Cape Zanpa is also famous for its large lighthouse, which is visited by many tourists and locals.
This place is also famous as the music video location for the song "Let Go" by BTS.
There are various sightseeing spots nearby such as "Zanpa Beach", "Zanpa Cape Park", "Royal Hotel Okinawa Zanpa-Misaki", and "Okashigoten (souvenir shop)", so adults and children can enjoy many things in this area.
Evaluation of the Cape Zanpa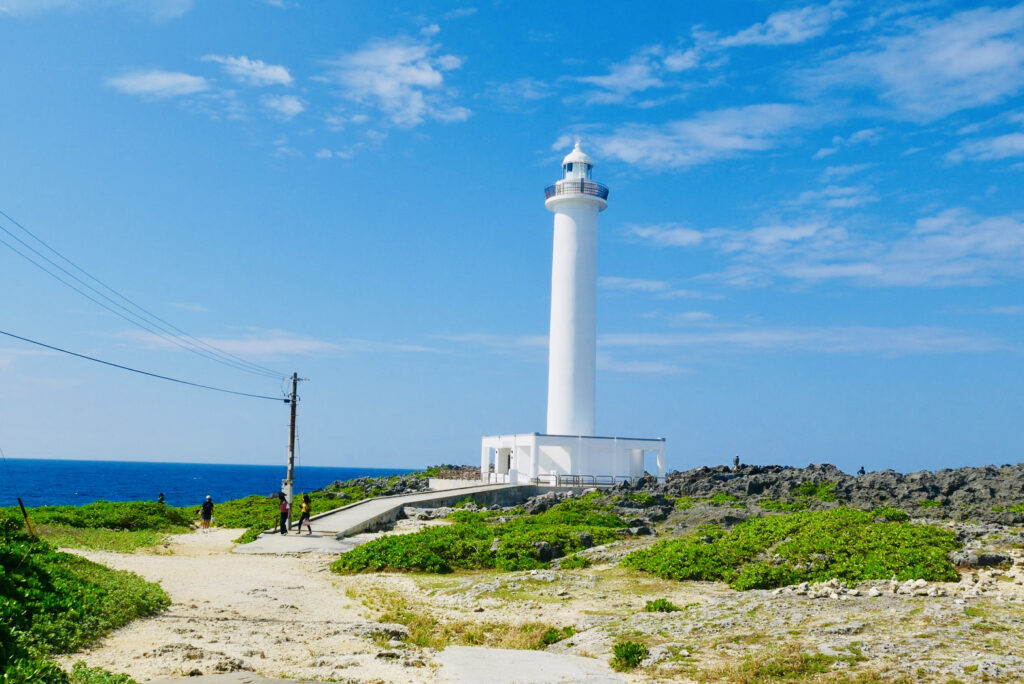 Notes: This evaluation is compared with other capes in Okinawa by Okinawa Bookmark administrator
Information of Cape Zanpa
| | |
| --- | --- |
| Business hours | Nothing |
| Entrance fee | No |
| Parking | Yes (free) |
| Restroom | Yes |
| Shop | Yes |
| Official site | None |
There are many places to walk along the promenade around the lighthouse at Cape Zanpa, but you need to be careful when walking as it becomes a rugged rocky area along the coast.
There are many places where there are no fences at Cape Zanpa, so be careful when approaching cliffs.
Cape Zanpa Lighthouse is very high with a height of about 31m.
You can also climb it for a fee (300 yen), so please enjoy the scenery from above.
You can visit the Zanpa Cape Lighthouse during the following times.
[Visit time]
March-September Weekdays: 9: 30-16: 30, Saturdays and Sundays: 9: 30-17: 30
October-February 9: 30-16: 30
Recommended Points
Superb view from the cliff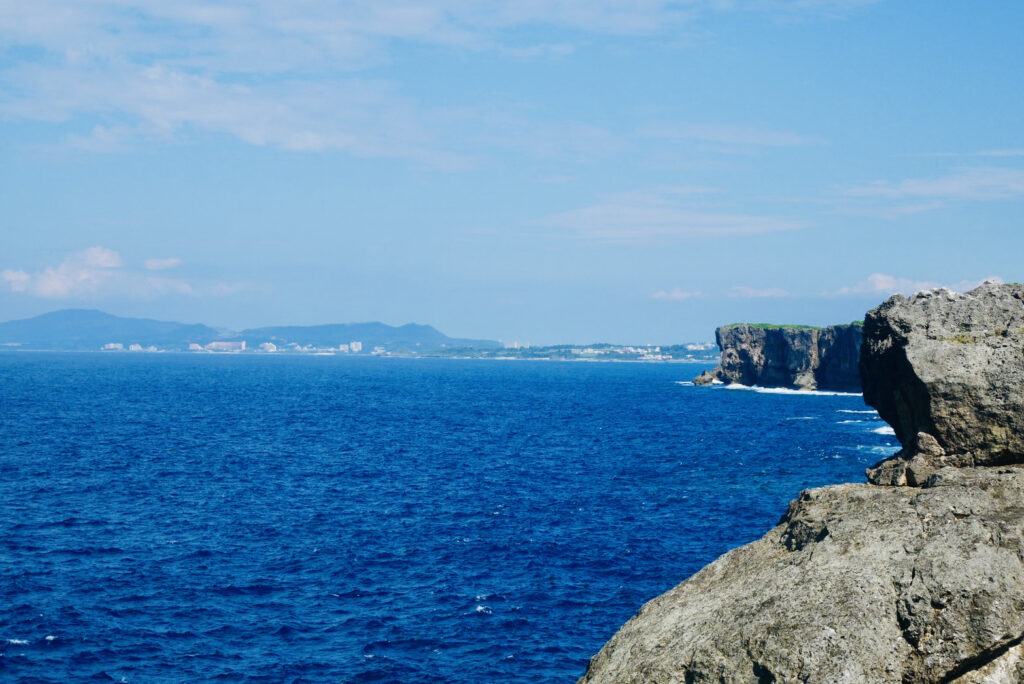 The view from the cliff is superb.
Your feet are rugged on the rocks, so be careful when walking.
The power of the rough waves is amazing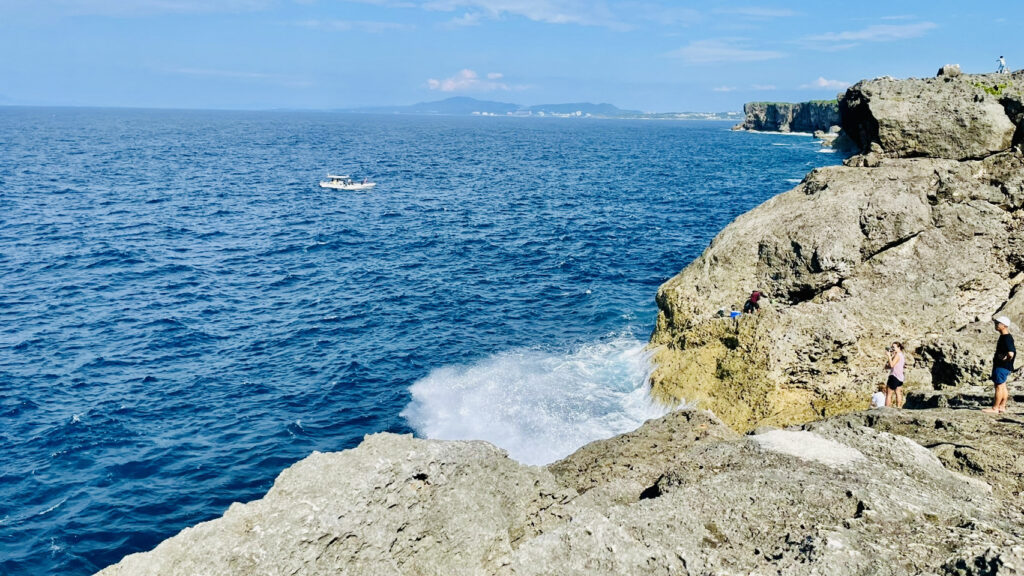 Cape Zanpa has rough waves and is very powerful.
Some people were fishing along the coast and some were taking pictures.
Beautiful promenade
The area around Cape Zanpa is a promenade, and locals use it for walks.
It is also famous as the MV location for the song "Let Go" by BTS.
Taiki Statue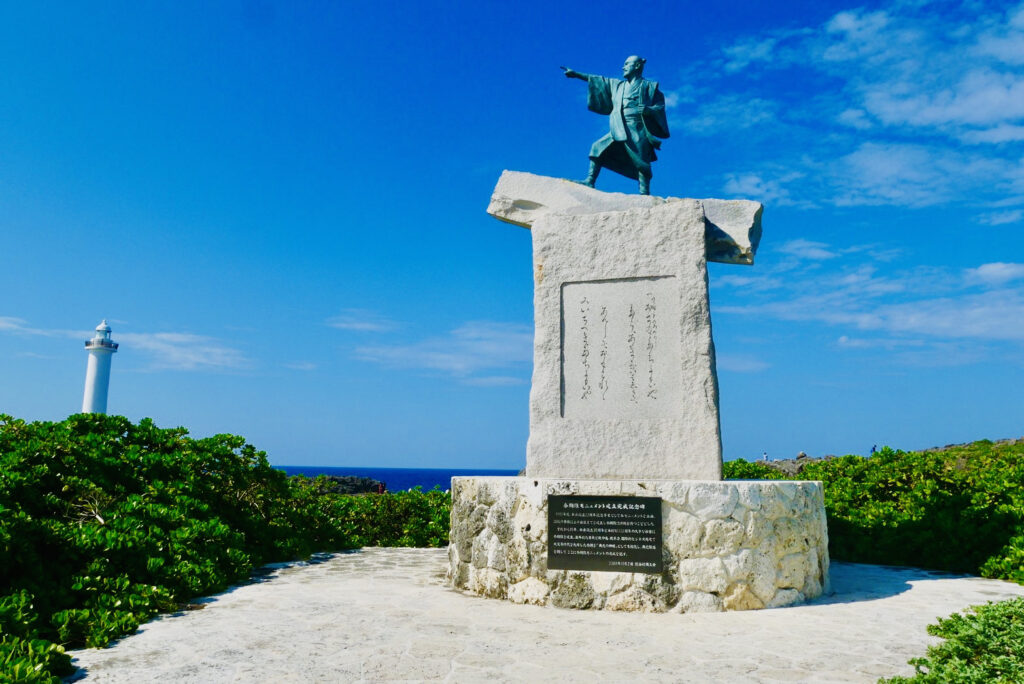 Taiki was born in Yomitan Village and went to China as the first tribute ambassador of the Ryukyu dynasty.
In November 2008, the "Taiki statue" was completed and built at Cape Zanpa.
Zanpa Cape Park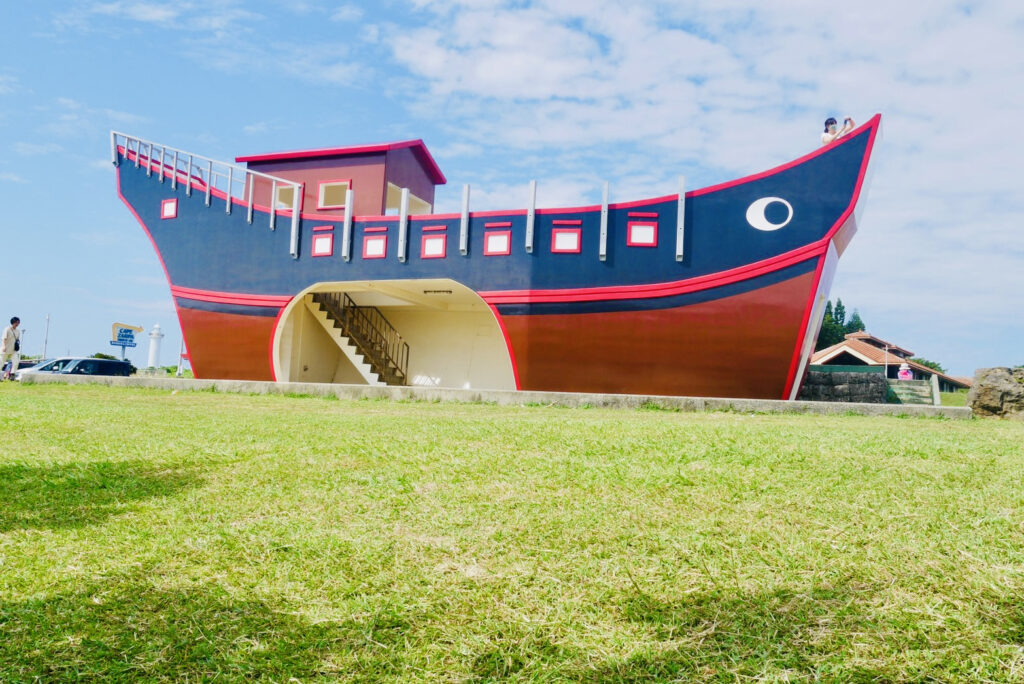 There is Zanpa Cape Park including the promenade and parking lot around Cape Zanpa.
There are various things such as sports facilities, spaces for barbecues, and cafes.
The image above is a playset with the motif of a "tribute ship".
CAPE ZANPA DRIVE IN (Cafe)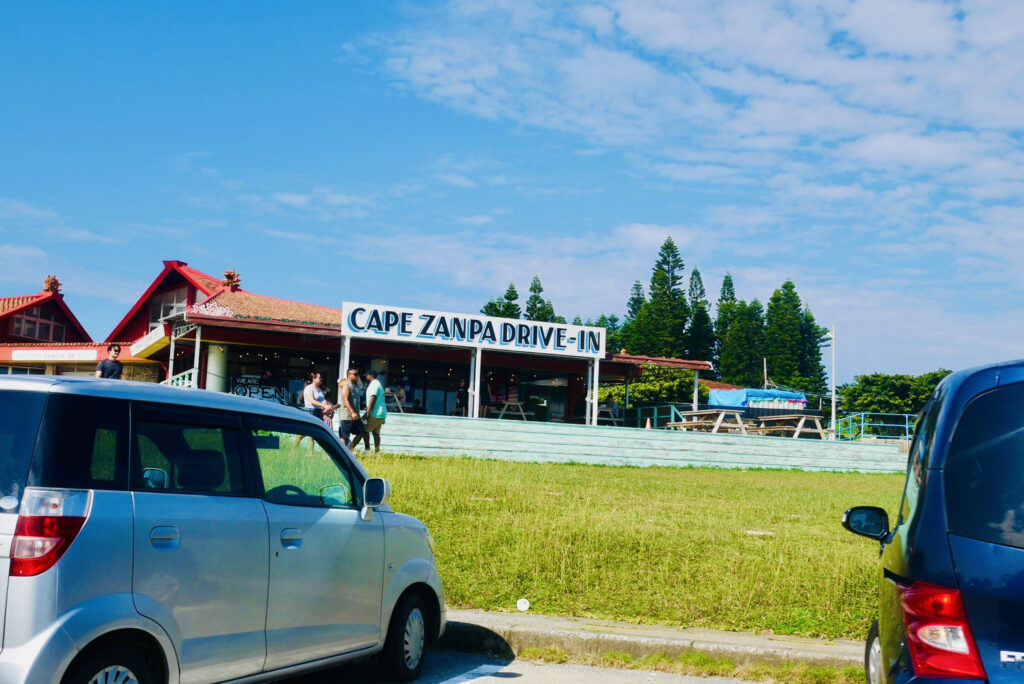 There is also a cafe where you can tack a rest.
Access information and parking lot
| | |
| --- | --- |
| Access | About 1 hour by car from Naha Airport |
| Address | 1861 Uza, Yomitan Village, Nakagami District, Okinawa Prefecture |
| Parking lot | Yes (Free) |
| Restroom | Yes |
There are parking lot at Cape Zanpa, so please check it for more details from the Google Map below.
Information around Cape Zanpa
Zanpa Beach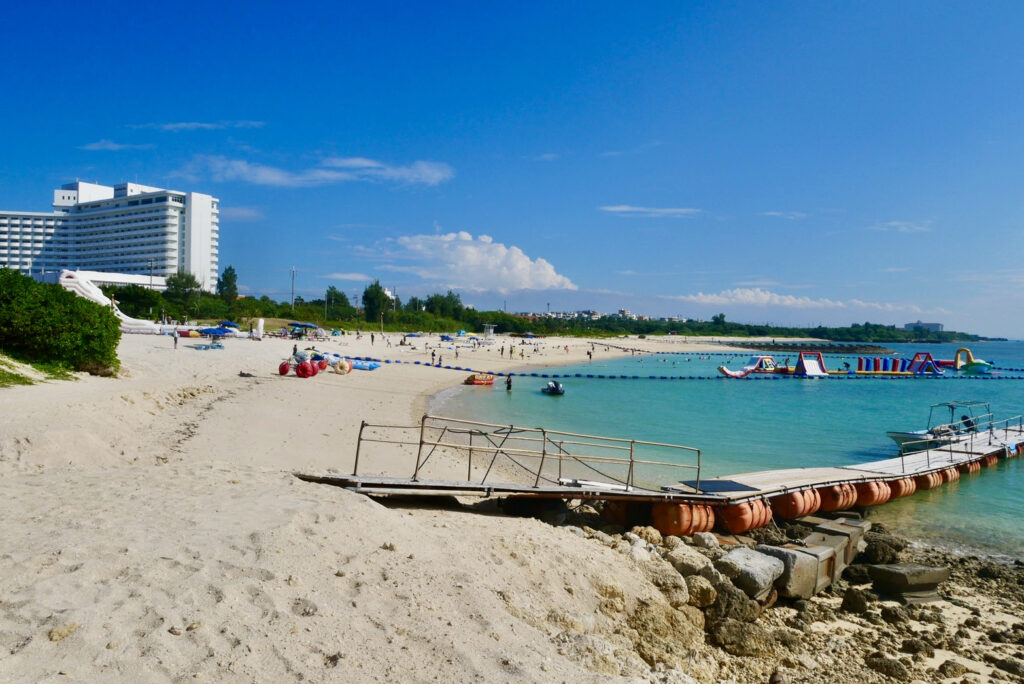 Zanpa Beach is one of the most beautiful beaches in Okinawa, and many tourists enjoy swimming every year.
Large Shisa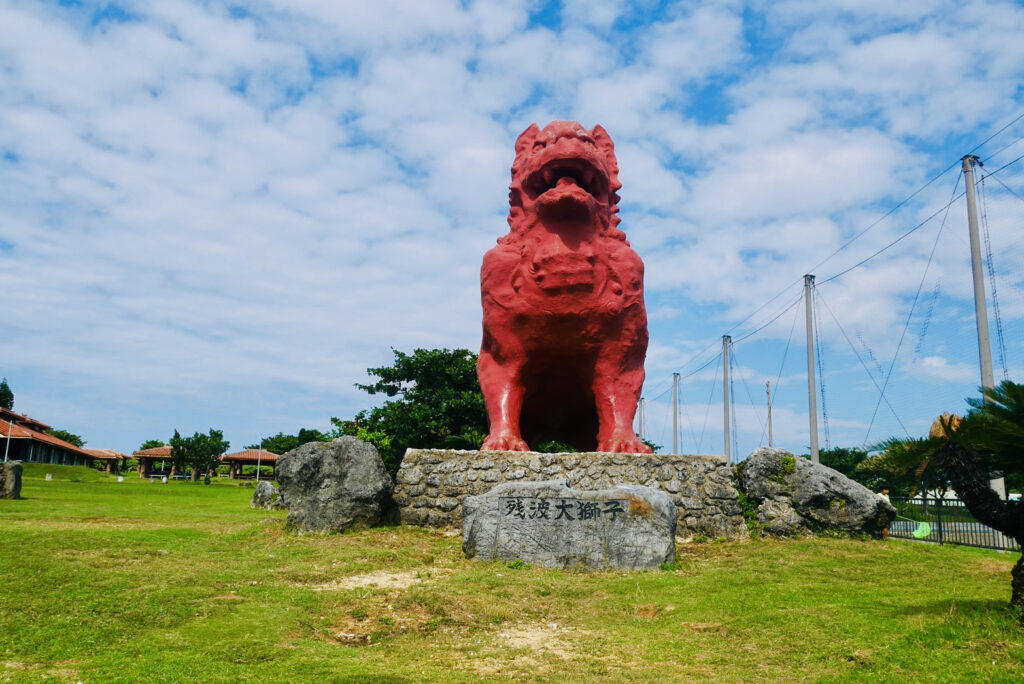 Probably the largest "Zanpa Daishishi" giant Shisa in Japan is located inZanpa Cape Park.
I was surprised that it was really big when I looked closer at a height of 8.75m and a length of 7.8m.
Note: Shisa is a lion, a guardian deity of Okinawa that drives away monsters and disasters.
Okashigoten (Souvenir shop)
The "Okashigoten", which is famous for the "Beni-Imo Tart", is also nearby.
When buying Okinawan souvenirs, it is recommended to go to "Okashigoten".
Royal Hotel Okinawa Zanpa-Misaki
It is a resort beach where you can enjoy the beautiful beach of Zanpa Beach and the spectacular view of Cape Zanpa.
You can enjoy the ocean view from the room, and the facility has both a pool and a large communal bath.
It is one of the leading resort hotels in Yomitan Village, so it is especially recommended for those who are looking for a resort hotel.
View on Expedia
Summary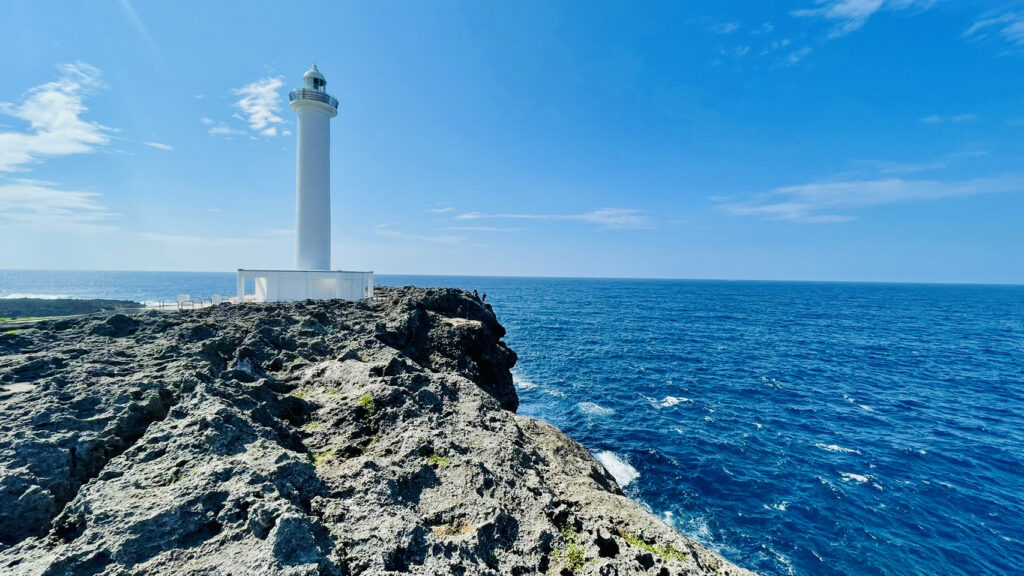 Cape Zanpa is very large and you can enjoy a wonderful view.
When you visit Yomitan Village, please go to "Zanpa Cape" and enjoy the wonderful scenery.
Thank you for reading until the end.
Advertisement