Uramaeda Beach is located in Onna village in the Northern part of the main island of Okinawa.
The exceptionally transparent sea and gorgeous sandy beach draw visitors to this area.
When you see it in person, it's overpowering.
There are Cape Maeda and Zane Beach near by Uramaeda beach, so this place is also famous for Snorkeling and diving, SUP etc..
Uramaeda Beach is not so well known, but It is a really beautiful beach, so please pay it a visit if you are visiting "Cape Maeda."
Evaluation of The Uramaeda Beach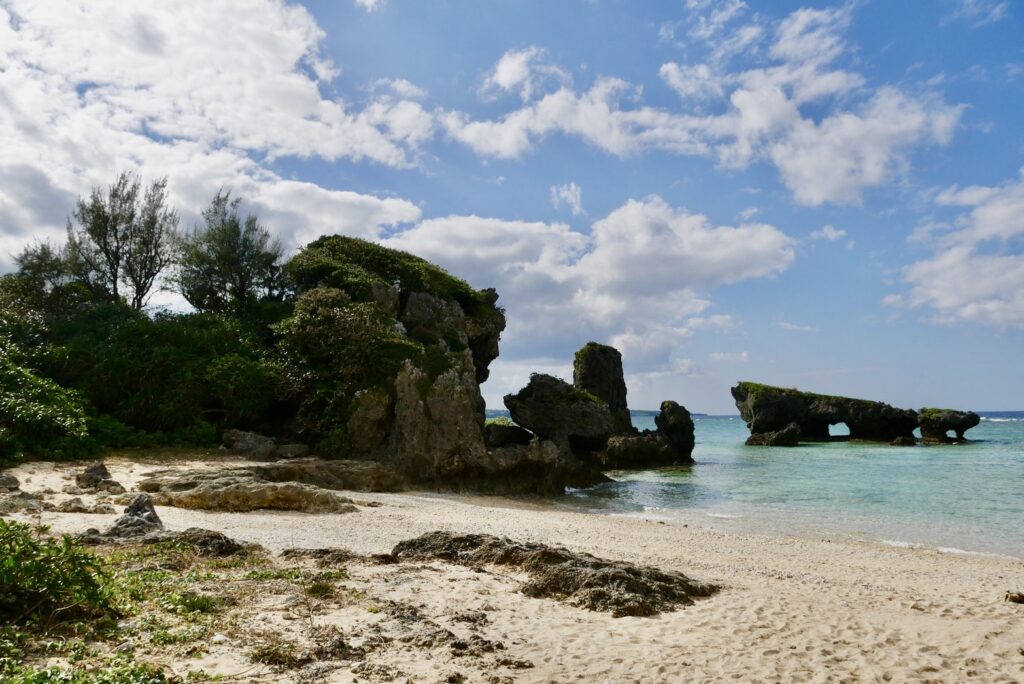 Notes: This evaluation is compared with other beaches in Okinawa by Okinawa Bookmark administrator
Information of Uramaeda Beach
| | |
| --- | --- |
| Swimming period | Nothing |
| Business hours | Nothing |
| Swimming fee | Free |
| Protective net | No |
| Lifeguard | No |
| Shower room | No |
| Locker | No |
| Swimming Equipment Rental | Nothing |
| Activities | Nothing |
| Shop | No |
| Restroom | No |
| Official site | Nothing |
There are no swimming facilities at Uramaeda Beach, but There are many Swimming Equipment rentals at Cape Maeda.
It takes 5 minutes from Uramaeda Beach to Cape Maeda, so we recommend that you leave your luggage at Cape Maeda and then go to Uramaeda Beach.
Recommended Points
White and beautiful sandy beach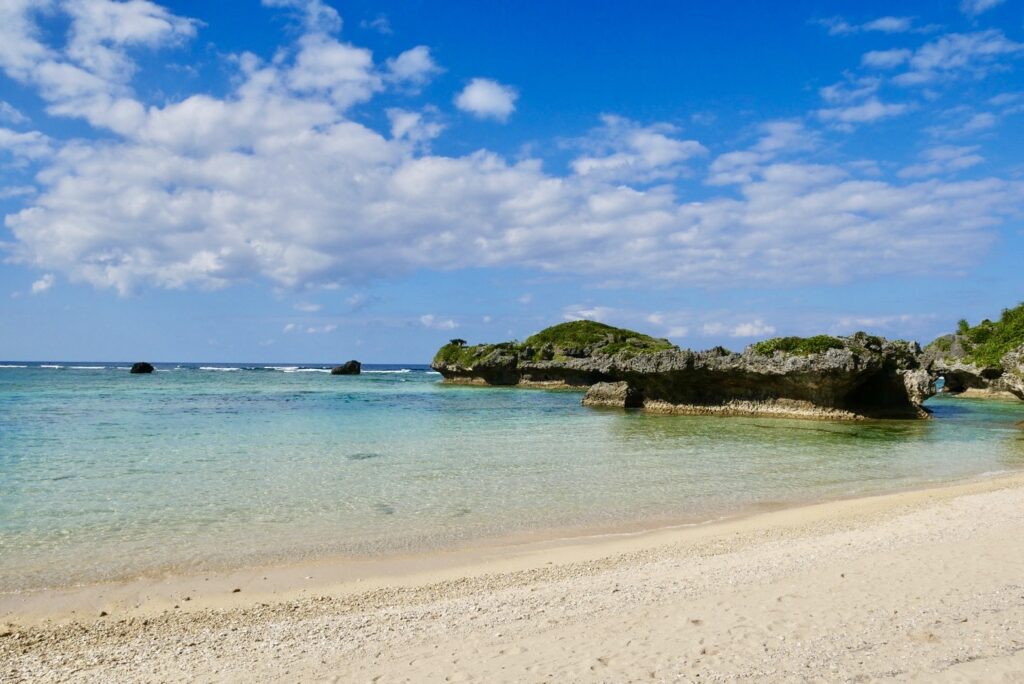 The smooth and gorgeous sandy beach is ideal for relaxing.
Although there are certain areas where seashells have been combined, it is safe to go barefoot.
Highly transparent sea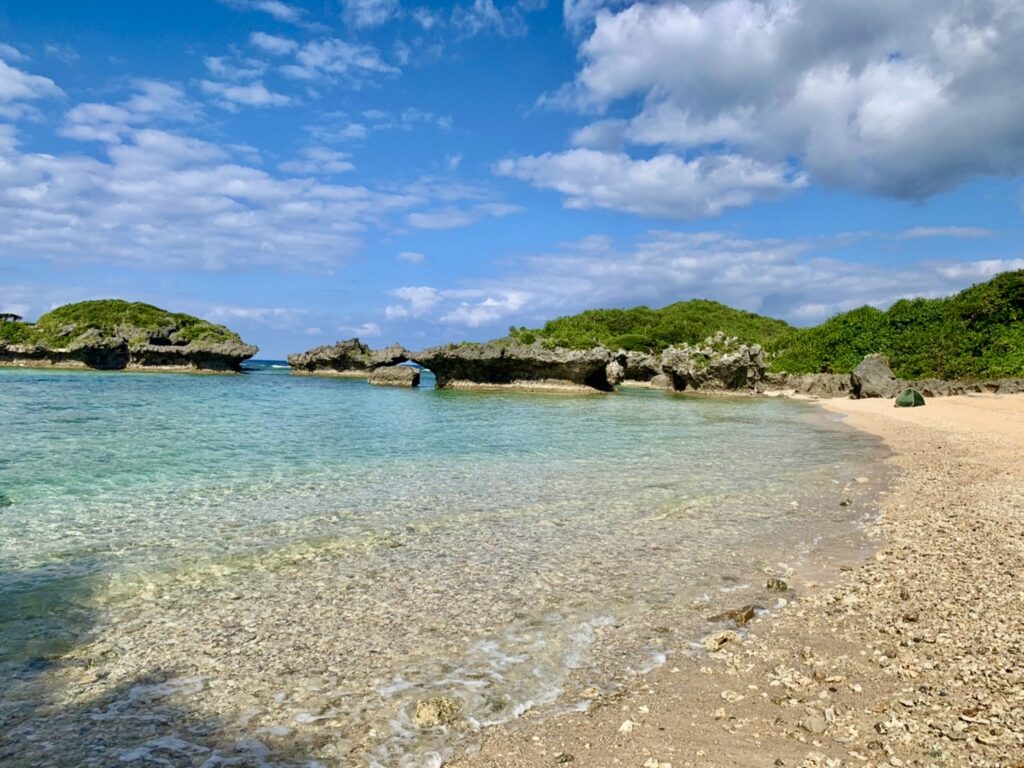 It is hard to see the transparency in the image, but it is a very beautiful and clear sea.
Rocks are attractive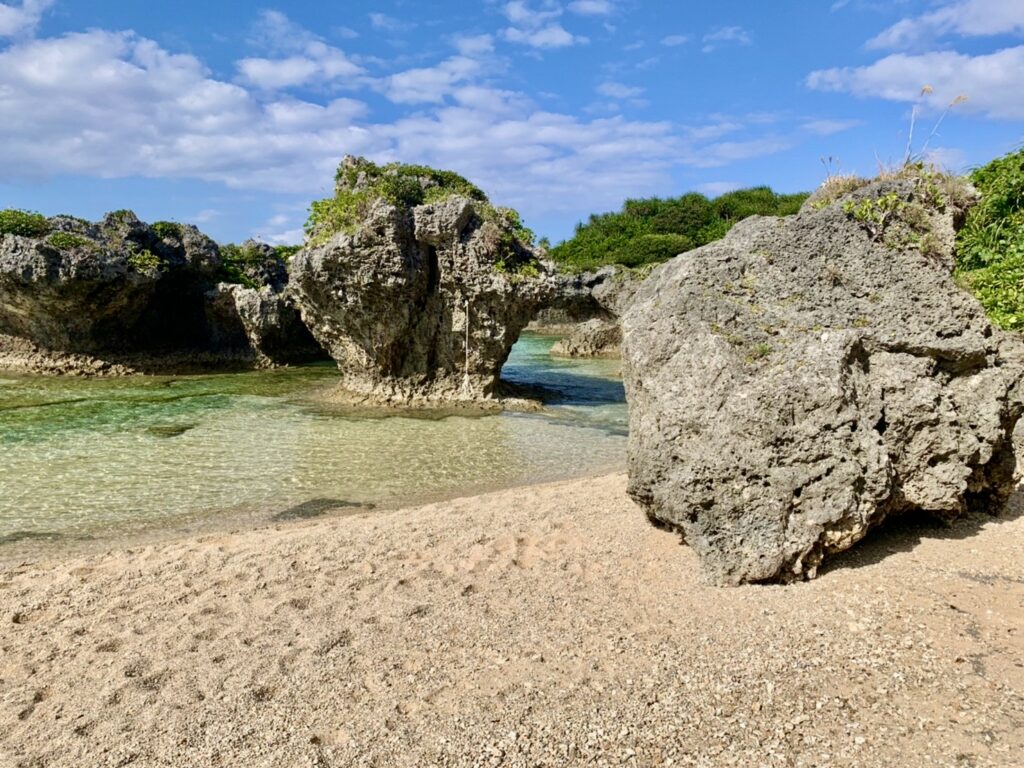 There are numerous enormous rocks constructed of natural materials, and you can sense Okinawa's natural splendor.
Different scenery at high and low tides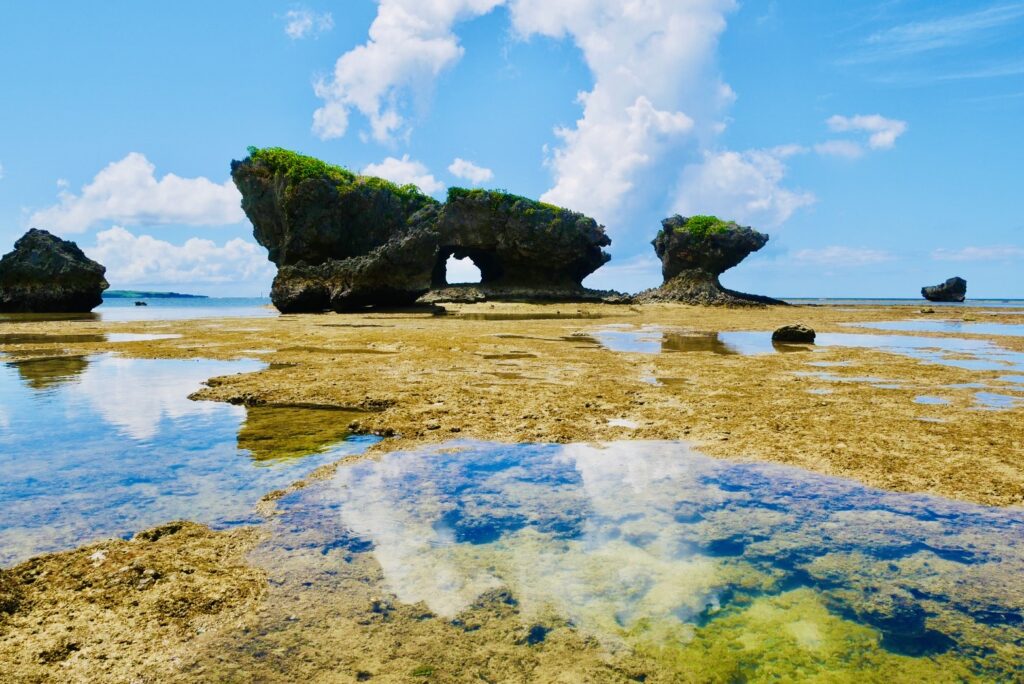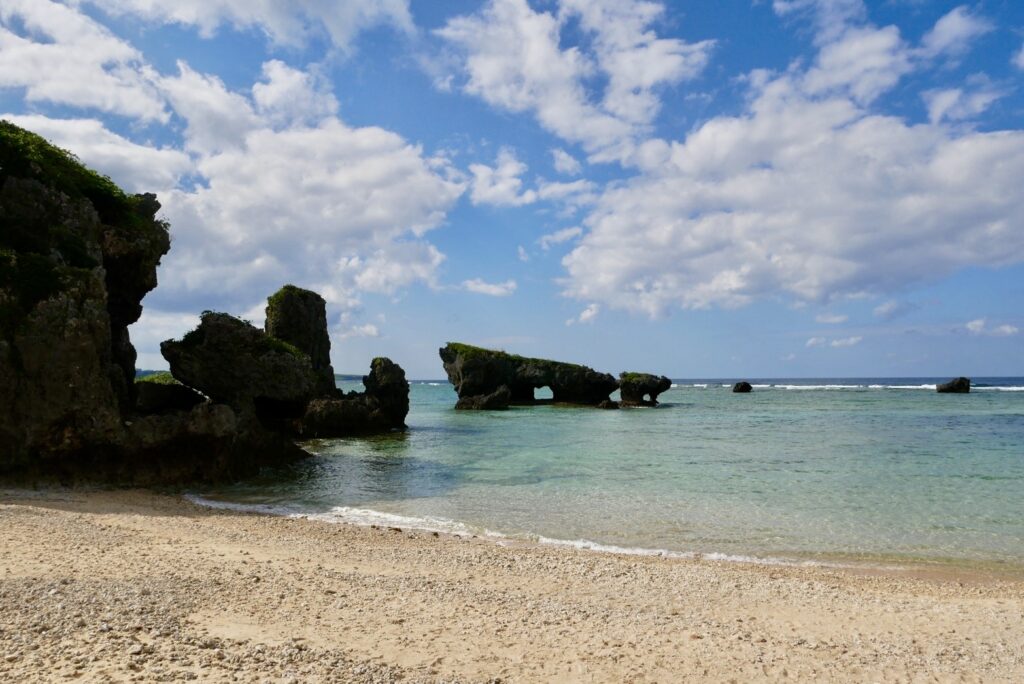 You may see diverse scenery at high tide and low tide on Ura Maeda Beach, which is a unique feature.
You can walk to the offshore during low tide by strolling in shallow water.
Many people do snorkeling and SUP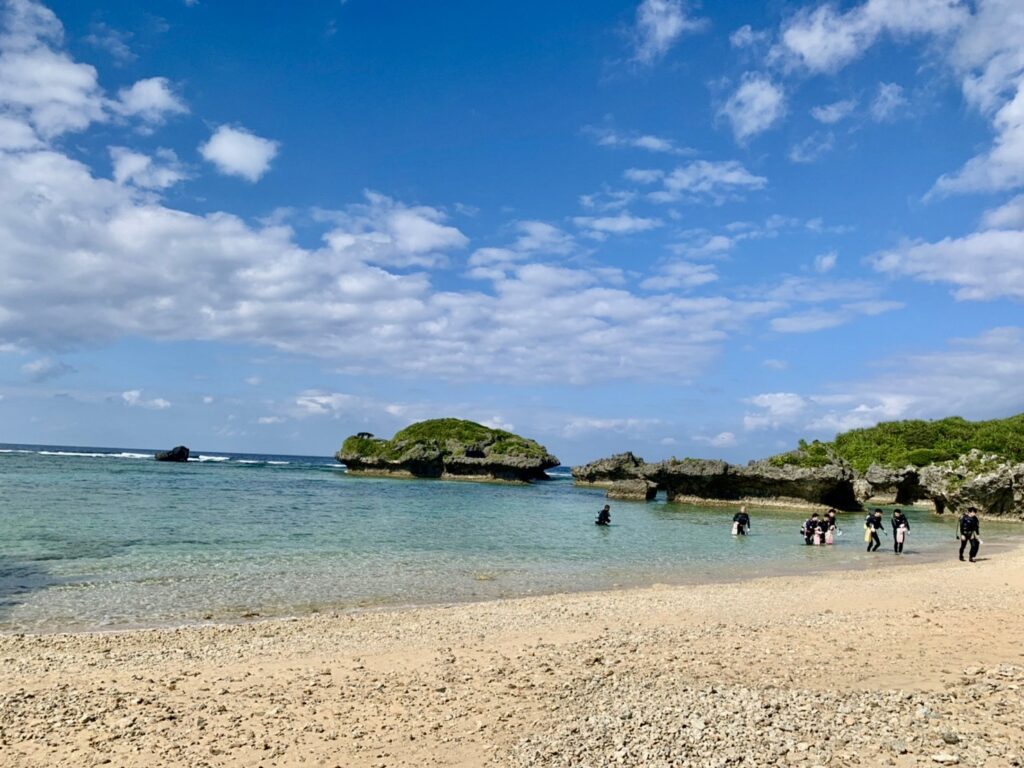 Many people enjoy diving, snorkeling, and SUP at this beach because it is a popular diving area.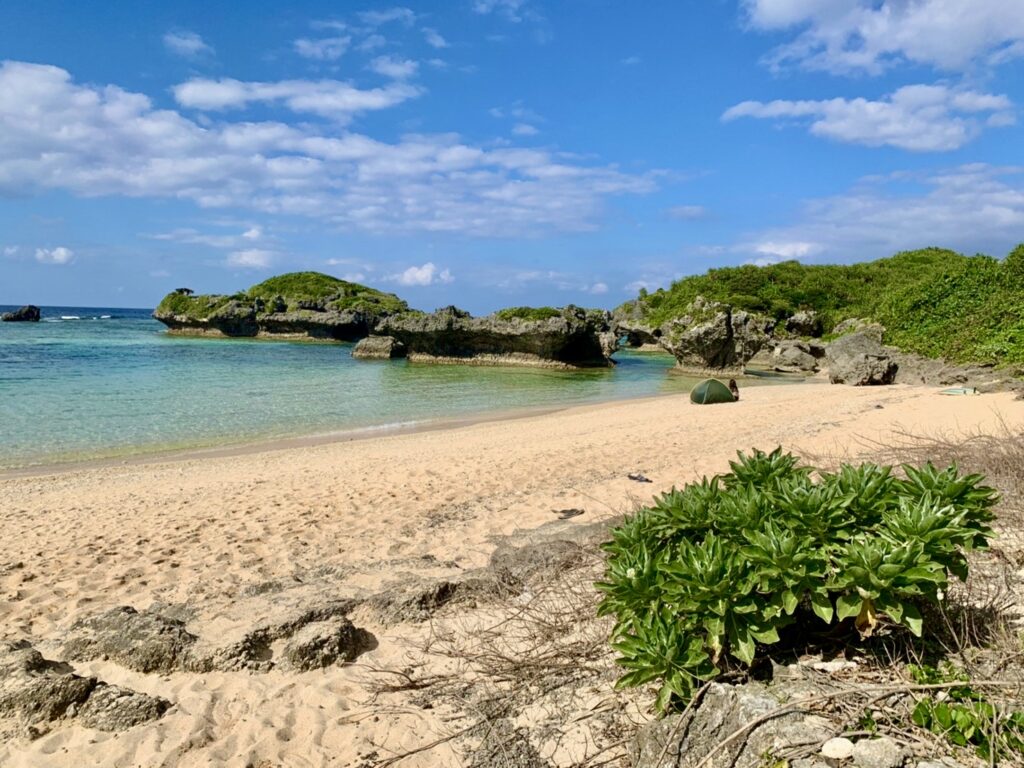 Some people prepared tents and relaxed on the beach.
Precautions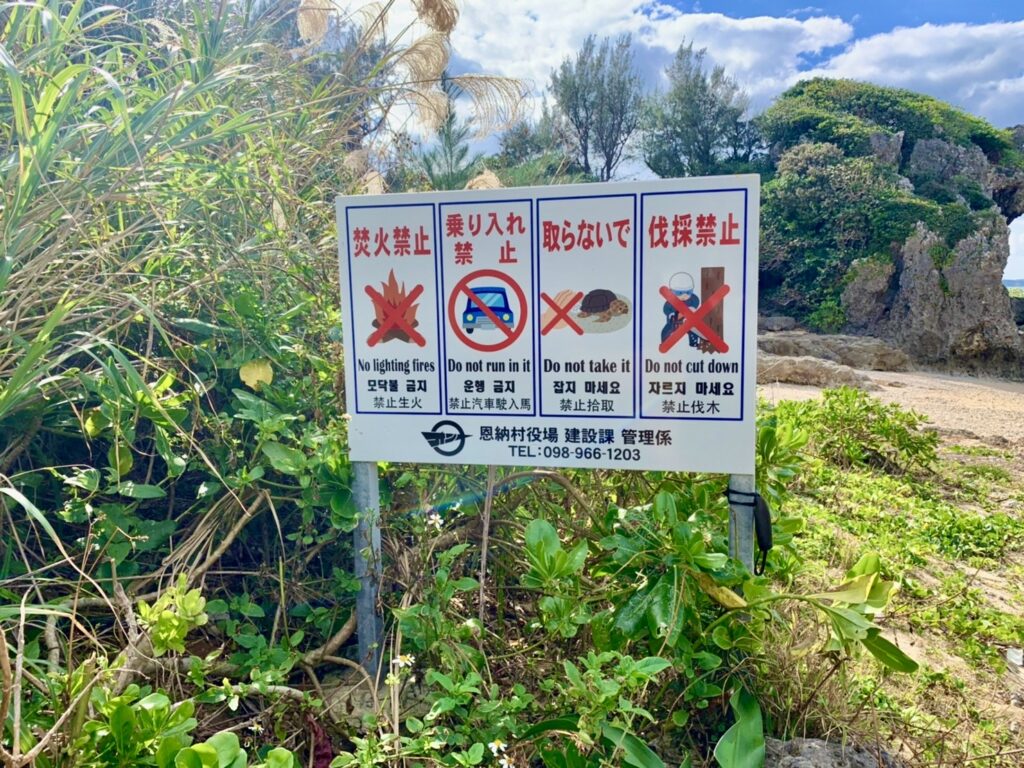 On Uramaeda Beach, there is a signboard with some instructions, so please obey them.
Access Information
Access
About 60 minutes by car from Naha Airport
Address
Maeda, Onna Village, Okinawa Prefecture
Marine Activities
Yes
Parking
Yes (100 yen per hour)
(There is a Maeda cape parking lot nearby)
Restroom
No
The walk from "Cape Maeda Parking Lot" to "Ura Maeda Beach" is around 200 meters and takes about 3 minutes.
We recommend that you prepare everything you need in advance at Cape Maeda and proceed to "Uramaeda Beach" because there are no restrooms, shops, or swimming equipment rentals.
How to go to Uramaeda Beach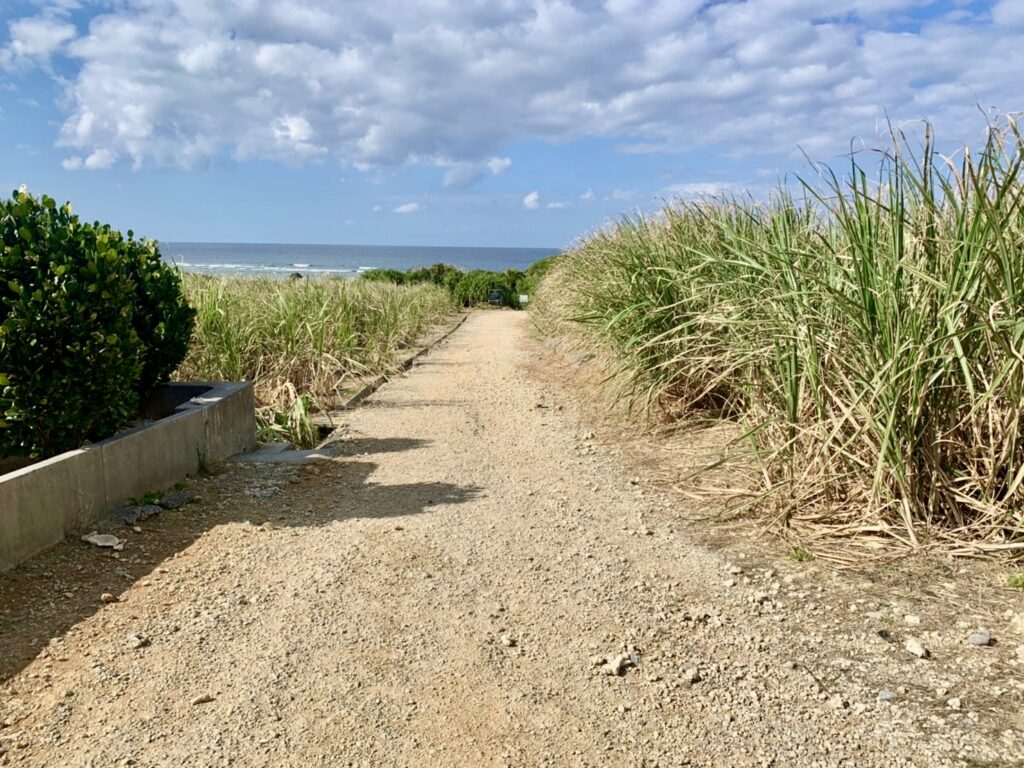 You will arrive at Uramaeda Beach if you go along the sugar cane field and unpaved road as indicated in the image above.
Because parking on the road is prohibited, you should park your car at the Maeda Misaki parking lot and then walk.
Area Information and Hotels
Cape Maeda
It has appeared many times so far Cape Maeda.
It's a good idea to arrange a reservation in advance for the blue cave, where you can snorkel and dive.
Zane Beach (Beach51)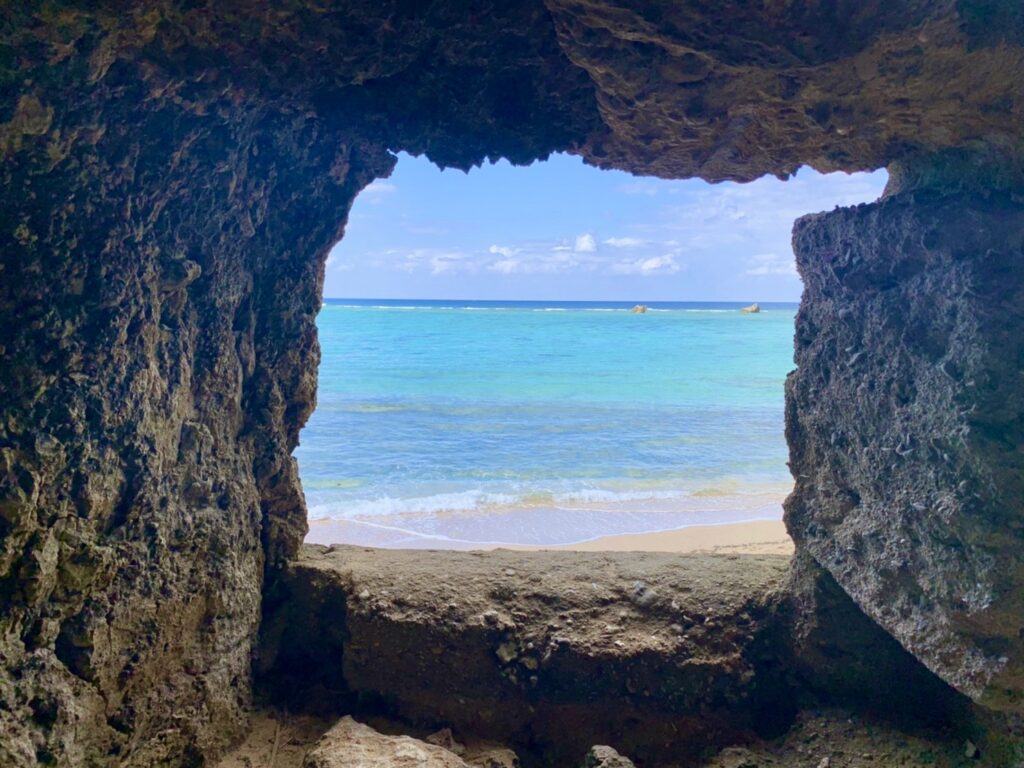 Zane Beach is called as "Beach51".
Smooth white sand and a clear sea add to the appeal of this beach.
You can walk from Uramaeda Beach to Zane Beach at low tide.
MAEDA BEACH HOTEL
Maeda Beach Hotel is located near "Uramaeda beach" and can be reached in about 5 minutes on foot.
There is a pool in the hotel, so if you are not satisfied with the sea bathing, you can swim in the pool.
You can enjoyAuthentic Thai cuisine at the dining bar.
It is also highly recommended as you can ask the staff about the marine activities of Onna Village and recommended places.
View on Expedia
Summary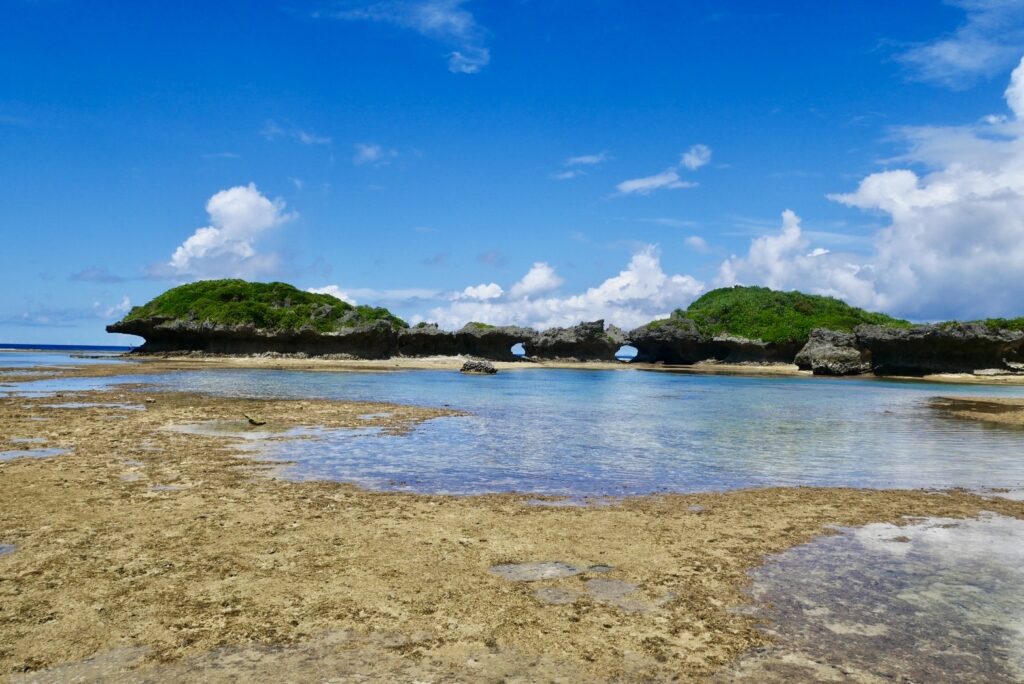 This time, we introduced Uramaeda Beach.
There are "Cape Maeda" and "Zane-Beach" near Uramaeda Beach, which are popular spots for snorkeling, diving and SUP.
When you visit Onna Village, please visit to Uramaeda Beach.
Thank you for reading until the end.
Advertisement