Nirai Beach is a located in Yomitan Village in the central part of the main island of Okinawa.
This beach is a resort beach with natural smooth sand and clear sea.
The characteristic of Nirai Beach is that there is a difference in water level between high tide and low tide.
Depending on the time of year, the difference can be as much as 2m.
This beach is also equipped with swimming facilities such as marine activities and rental of swimming equipment.
So it is a popular spot where adults and children can enjoy playing.
Evaluation of Nirai Beach
Notes: This evaluation is compared with other beaches in Okinawa by Okinawa Bookmark administrator
Infomation of Nirai Beach
Swimming period

April-October
9: 00-18: 00
depending on weather and season

Business hours
April-October
9: 00-18: 00
Swimming fee
Free
Protective net
Yes
Lifeguard
Yes
Shower room
Yes
Locker
Yes
Rental
Yes
Activities
Yes
Shop
Yes
Restroom
Yes
Official site
Nirai Beach
There is guards and protection nets in Nirai Beach, so adults and children can play with peace of mind.
There are plenty of marine activities and you can experience various things such as snorkeling.
In addition, it seems that there are some things that you can enjoy at a low price by staying at Hotel Nikko Alivila.
# Rental services #
- Beach umbrella
- Aquaboard
- Snorkeling set
- Mask
- Floating ring
- Life jackets
Please check the details from here
# Marine activities #
- Day sailing
- Snorkeling
- Sunset sailing
- Glass boat
- Wake board
- Dragon boat
- Towing tube
- Marble
- Clear sap
- Beach canoe
Please check the details from here
Recommended Points
Wide sandy beach and clear sea
It's a beautiful beach that doesn't require explanation.
The wide sandy beach stretches for about 300m and boasts water quality that is certified as "AA" in the water quality survey conducted in 2018.
The blue and transparent sea is very attractive.
URL: https://www.pref.okinawa.jp/site/kankyo/hozen/mizu_tsuchi/water/documents/30map-before.pdf
Difference between low and high tides
At high tide, it looks like the image above, and there are plenty of spaces to swim in.
However, at low tide, it becomes shallow enough to walk offshore, and the difference is about 1-2 m.
Lots of activities such as snorkeling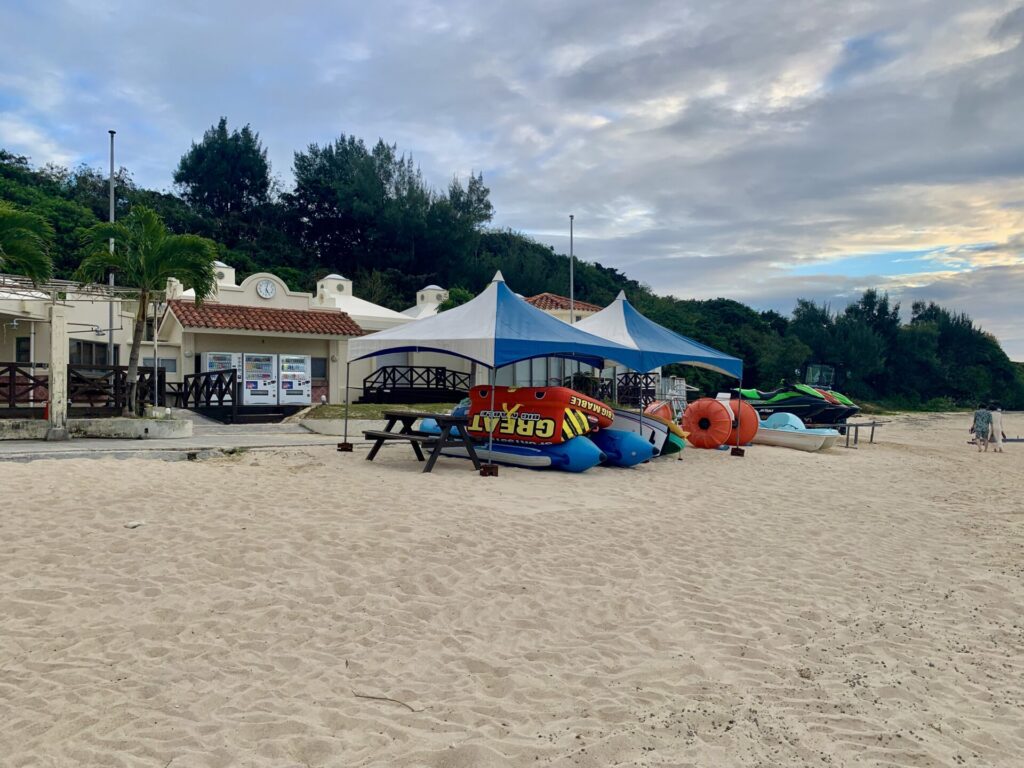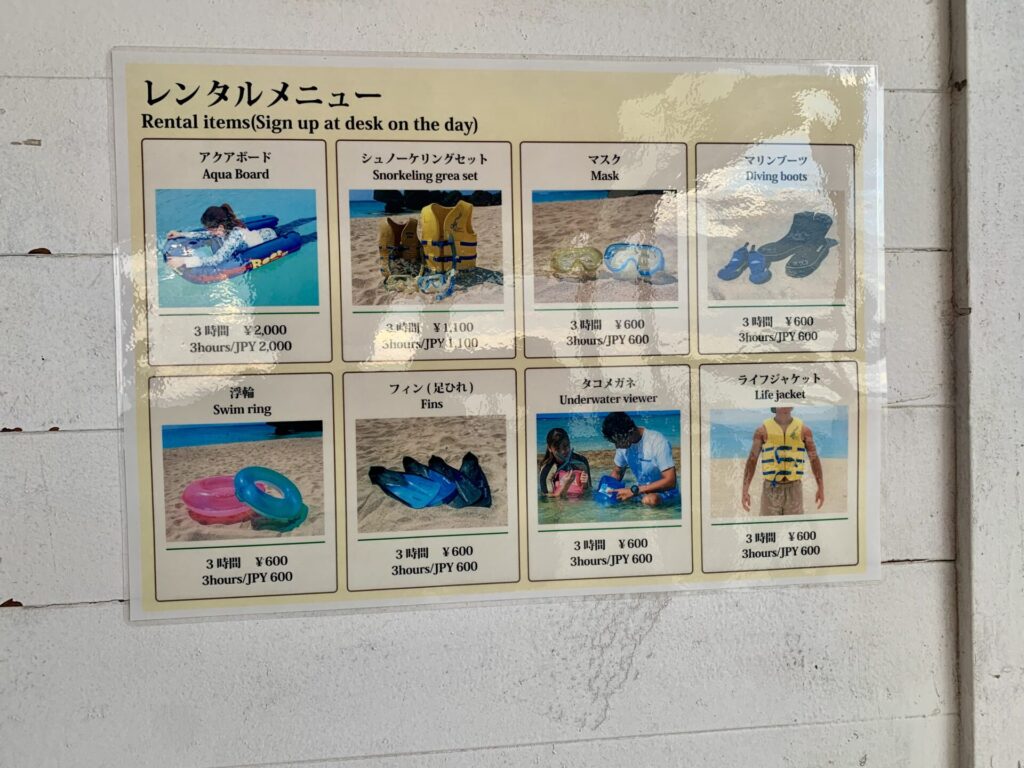 There are full of activities such as snorkeling at Nirai Beach.
Clean swimming equipment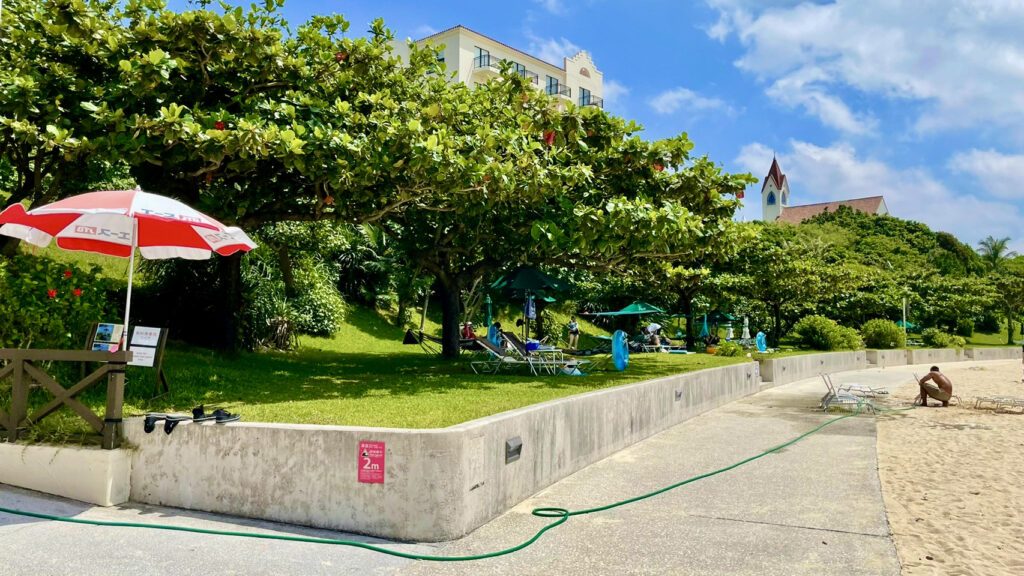 There are umbrellas on the sandy beach, and you can rest in the shade of the trees when you go to the hotel side.
In addition, there are plenty of swimming facilities such as shower rooms, lockers, and shops.
Beautiful pool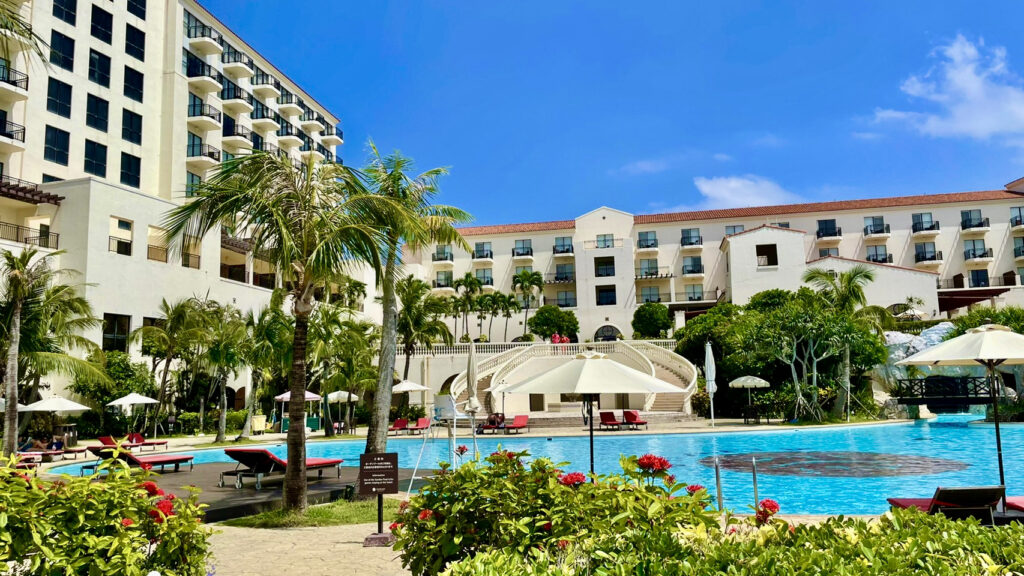 There is a pool, although it is limited to guests.
There are umbrellas around and you can rest on your bed.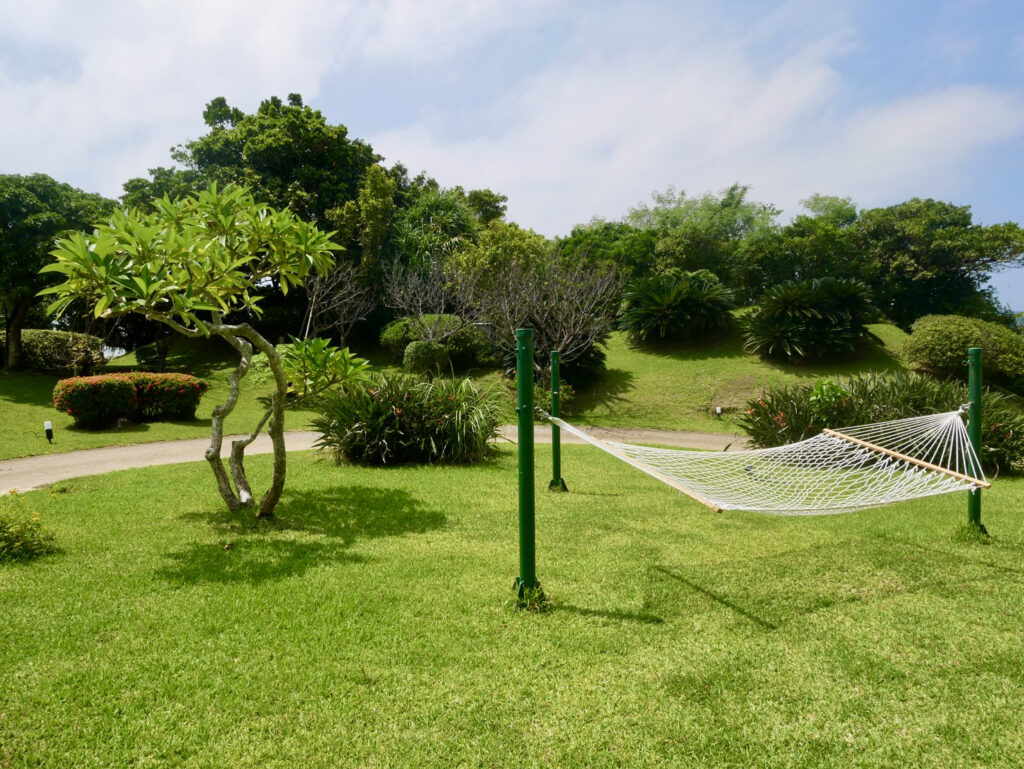 In addition, there are hammocks around, so it is a space full of resort feeling.
The sunset and night view are also the best
The sunset from Nirai Beach is also very beautiful.
The time to watch the sunset while listening to the sound of the waves is very luxurious.
Regulations of Nirai Beach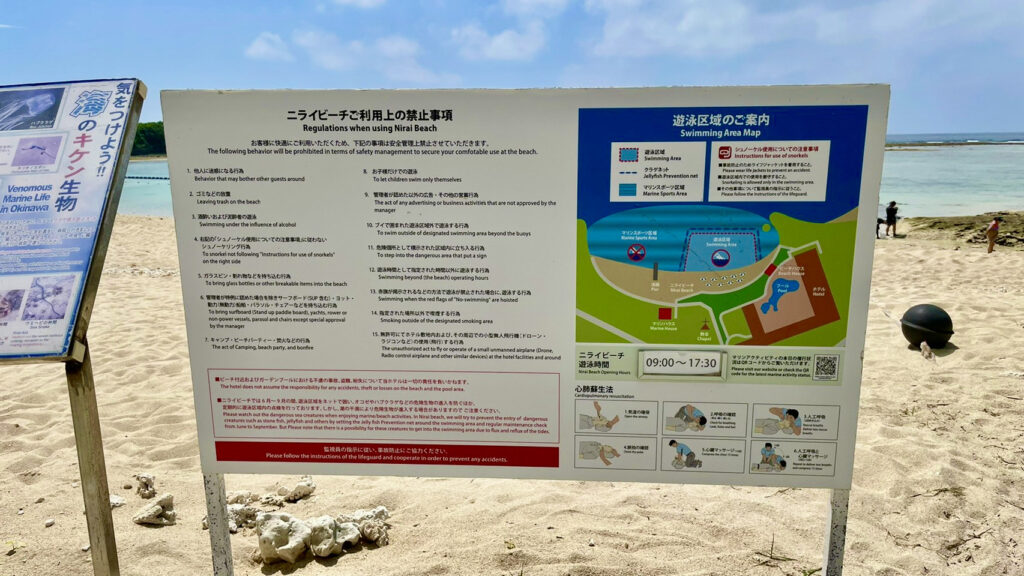 Access Information
| | |
| --- | --- |
| Access | About 60 minutes by car from Naha Airport |
| Address | 600 Gima, Yomitan Village, Okinawa Prefecture |
| Parking | Yes (Both free and paid parking) |
| Restroom | Yes |
Information around Nirai Beach
Kanai Beach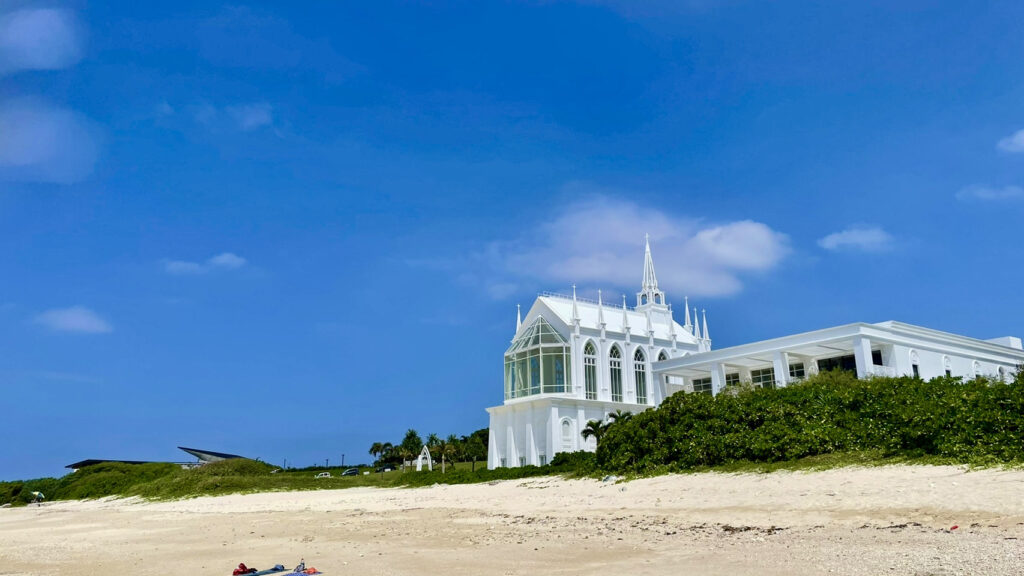 The Cristea Church is located along the Kanai Beach, making it a great place to enjoy a wedding or sunset.
It is a popular spot for wedding photos and sunset photos because it features white sand and a highly transparent sea.
This beach is recommended for those who want to relax on the sandy beach rather than enjoying the sea bathing.
Hotel Nikko Alivila
"Hotel Nikko Alivila" is a resort hotel, and "Nirai Beach" spreads out in front of you, and you can enjoy the ocean view from your room.
In addition, it is a resort hotel that parents and children can enjoy as it is fully equipped with facilities such as activities when playing at Nirai Beach and rental of swimming equipment.
It takes 1 minute to walk to "Nirai Beach" and 5 minutes to walk to "Kanai Beach", so please visit when you stay at "Hotel Nikko Alivila".
View on Expedia
Summary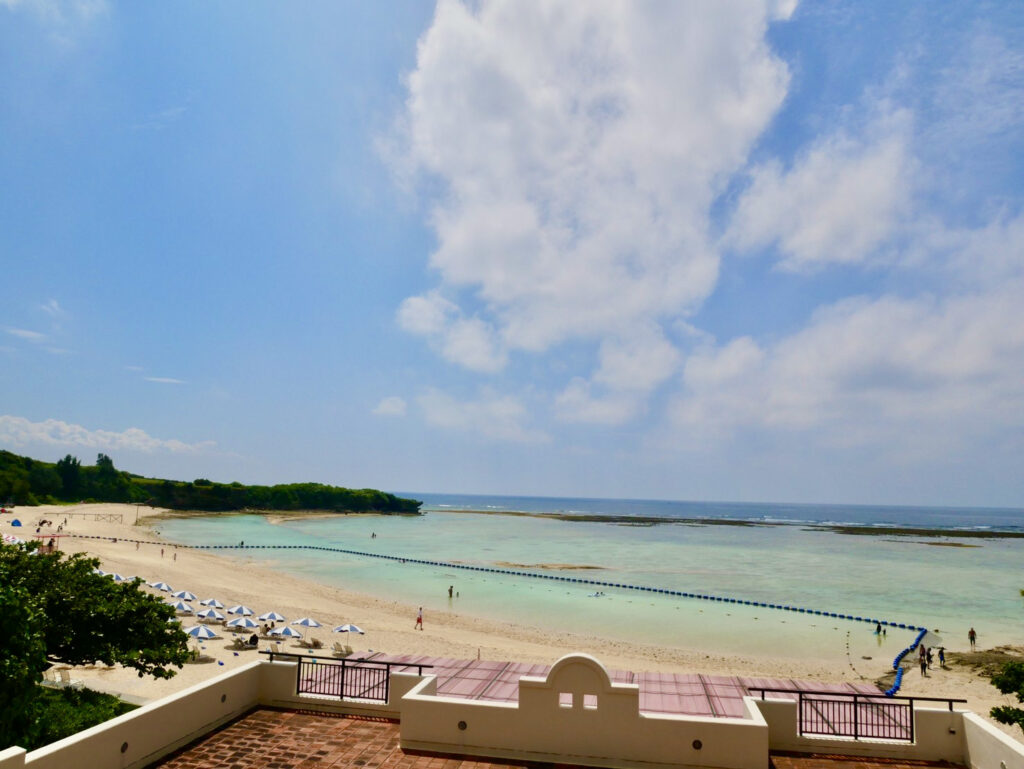 Nirai Beach is one of the most beautiful beach on the main island of Okinawa.
Although it is a very beautiful beach, my impression is that it is not well known.
When you come to Yomitan Village, please visit to Nirai Beach.
Thank you for reading until the end.
Advertisement